Biography - President


Jennifer R. Calhoun, MBA, CHE
Improve your organization's productivity, reduce costs, develop leaders and managers, train and motivate your supervisors and employees by working with Jennifer, President of J & J Calhoun and Associates.
Jennifer has 15 years of experience developing and facilitating seminars and workshops for all levels of workers in hospitality, tourism, service, and educational organizations, both in the United States and overseas. Her expertise-not just multifaceted but multicultural-qualifies her to consult on the most pressing issues facing your organization. Before forming J&J Calhoun Associates, Jennifer was Director of Seminar Programs for the American Hotel & Lodging Educational Institute.
Jennifer's education, certifications, and memberships include:
Masters of Business Administration (MBA), University of Central Florida
Certified Hospitality Educator (CHE), Eastern Michigan University
Bachelor of Science in Hotel Management
Diploma in Education
Several professional certifications in training techniques
DDI certification "Skills for an Empowered Workforce"
Member, American Society for Training and Development (ASTD)
Member, National Association for Female Executives (NAFE)
Biography - Vice-President


John A. Calhoun, GCSAA, CHT
John empowers clients from large and small golf and driving range operations to:
Improve maintenance practices and lower costs
Identify key improvements to enhance your operations and profitability
Plan renovations for holes, greens, tees, bunkers, and irrigation systems
Enhance administrative and management skills
Train and develop mentoring programs for all levels of employees
A results-oriented high achiever and internationally known consultant to the golfing sector, John has over 15 years proven success in managing golf course operations both in the U.S. and overseas. His credentials include:
Associate of Science Degree in Golf Course Operations
Associate Degree, Golf Complex Operations and Management
Certified Hospitality Trainer (CHT), American Hotel & Lodging Association
Golf teaching certification
Club repair certification
Numerous turf equipment certifications
Member, Golf Course Superintendents Association of America
---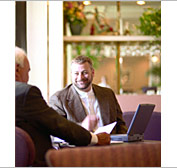 "The Consummate Professional" is the best way for me to describe you. Always prepared to handle any task under any circumstance. I have worked closely with you over the years and it has been a great experience because I have never once been concerned about your ability to deliver a quality program for my clients.

Barbara Blankenship,
Director of Professional Certification
Educational Institute of AH&LA.